Why Native Translator?
Languages are culturally bound as it contains slangs, cultural and historical background, jargons, terminologies, norms, trend of usage, etc…
Translation doesn't mean only turning a source language to a target language, it also means to build a cultural-acceptance to the target audiences, just like to tailor-make a product for a specific market. Try to think if you are selling a microwave with a 3-leg plug to China, though people know it is a branded microwave, no one would buy because only 2-leg plugs are used in China!
Thats why, we need native translators to help convert the meaning of an exotic language to words that are culturally acceptable, readable and marketable by the local audiences, with the help of native mindset and background.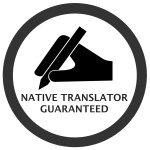 Spear – Native Translator Guaranteed
At Spear, all translations are done by native translators. As a global translation company, we are missioned to deliver projects with high ROI (return on investment).
A native team (native translator + editor + project coordinator) will be assigned to work with you, plus our global project coordination team works 24-hour a day so that you will be receiving a quality translation masterpiece.