The moment we have all been waiting for has finally arrived!
For the past few months, our team has been working to develop our new and sophisticated online system. This online service portal will allow you to access to our professional services globally without any restrictions.
Global Accessibility
For most of the time our customers need to get our quotation printed and signed back before the translation starts. This back-and-forth procedure may be a little difficult when they are on a business trip that finding a printer may not be possible. With this online system, customers are now able to select their service and pay at one place, requires no paper work, time saved!
This intuitive online system is designed with a mobile-responsive feature, that means anyone who got a smartphone and a wifi connection, can access to our services without any hassles. For more, the system is hosted in our servers, that stationed in major cities globally, that users can add files and pay anywhere, anytime, all over the world.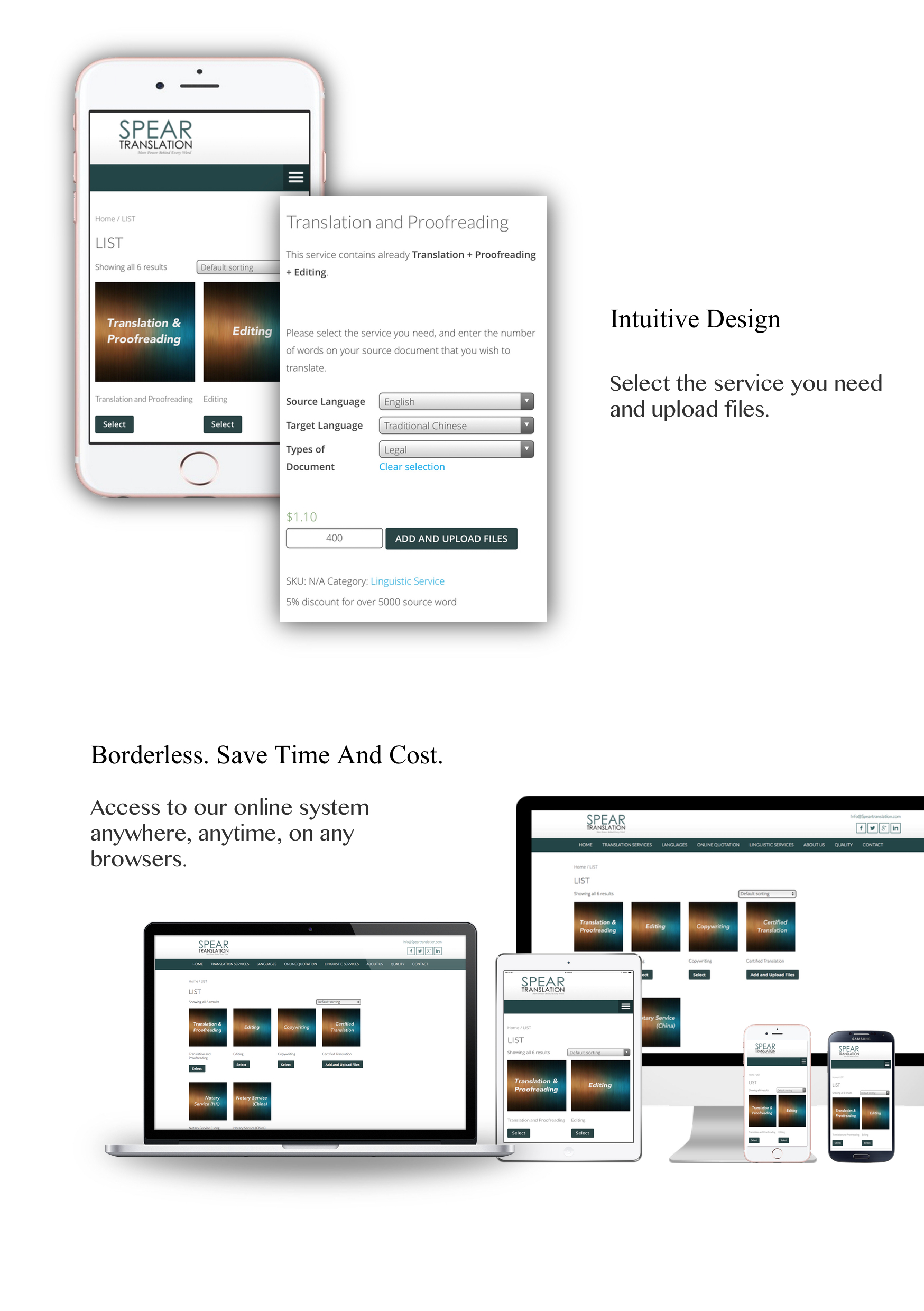 Pay Safely with Various Payment Ways
Designed for business-trip users, we provide various payment gateways such as credit cards / paypal for users to pay online. By working with the world's largest payment security firm Spinetpay Inc., your personal information with us is completely safe and confidential. Further, you will receive a confirmation letter from both our staff and automatic system to reassure your payment and the job delivery date.
If you are using a cloud service like Dropbox or Google Drive to store your files, you would probably love our online system. The system comes with a cloud file upload function that let you upload source files from any popular cloud storage via your smartphones and, of course, Android users can still upload files from their phone's local path.
Manageable Time and Cost
For registered users, you may track your orders online by entering the order code assigned for each project and the email you used for receiving translated documents. Time is hence more manageable! You may also pre-store SPoint, an online currency developed by the Spear Group to pay for Spear's services and products, in a corporate account and share with your colleagues, to eliminate conversion charges between currencies, and the handling fee of credit card payments. We are proactively liaising with several local retails for featuring our SPoint redemption cards in their shops.
And more, from time to time Spear will be offering promotion discount on our services so would your business expansion plan be more cost-effective!
Check out our latest promotion discount at here.
Fox Fok
Business Development Manager
To know more about our online system, click here.
---
Click here to start using our brand new system.